information technology
champion the adoption
of emerging tech
deliver innovative solutions to complex business problems for our rapidly changing global industry.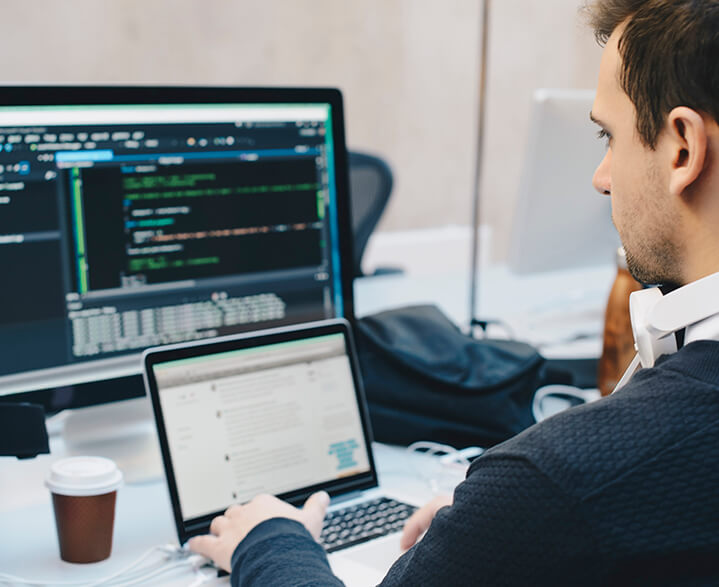 BA IT Analyst Referrals
Buenos Aires, Argentina
R000001906-en-1
success profile
Demonstrate core high performance behaviors – thrive in a highly collaborative, project-based environment, and tackle complex business problems to reach creative, yet practical solutions.
Collaborative
Analytical
Communicator
Strategic
Results-Driven
Problem-Solver
BA IT Analyst Referrals
Buenos Aires, Argentina
R000001906-en-1
Analyzes an organization or business domain and documents its business or processes or systems, assessing the business model or its integration with technology.
Understands the current state and designs the desired state of the collection of solutions based on the available and emerging technologies, develops standards, and defines governance processes, ensuring alignment with business strategies and portfolio investments.
This requisition applies for job opportunities in the following positions:
Software Engineer (Full Stack, .Net, C#, Java, Python, among others)
SAP PRA Business Analyst
ERP Software Developer
Data Scientist
Network Security Engineer
Selection Criteria
BS in Computer Science, Management Information Systems, Computer Engineer or related fields or equivalent experience
Strong technical background
Leadership
Be comfortable driving discussions clearly with a wide range of partners and levels of the organization
Ability to plan, organize, coordinate work activities across multiple teams and be successful at meeting deadlines and keeping projects on time, driving towards a common goal and alignment with key strategies
Manage tasks that span support groups, end users and vendors resources. Works well with global teams and across time zones
Communication & Collaboration
Strong verbal and written communication
Work collaborative with a large variety of different teams in an agile construct
Proven ability to remain focused upon agreed deadlines and deliverable while handling conflicting requirements
Innovation & Growth mindset
Creative thinking
Resourcefulness in solving problems
Innovative deliverable
Chevron participates in E-Verify in certain locations as required by law.
Chevron participates in E-Verify in certain locations as required by law.
Default Terms and Conditions
We respect the privacy of candidates for employment. This Privacy Notice sets forth how we will use the information we obtain when you apply for a position through this career site. If you do not consent to the terms of this Privacy Notice, please do not submit information to us.
Please access the linked document, select the country where you are applying for employment, then acknowledge that you have read and agree to the country specific statement by checking the box below.
hear from our people
At chevron, our greatest resource is our people. their ingenuity, creativity and collaboration have met the complex challenges of energy's past. together, we'll take on the future.
benefits
Health and dental care coverage

Retirement savings plans

Education assistance support

Paid vacations and holidays

Compressed work week schedules and flex time options

Recognition and service award programs
our culture
At Chevron, every day is an opportunity for all of us to continue working towards our collective vision: to be the global energy company most admired for its people, partnership and performance.
To achieve our vision, we've built our company's foundation on a set of values that guides our employees in the way we interact with each other and the communities and environments we work in.
Chevron offers a truly global and collaborative work experience. See what types of complex problems our employees are solving with cutting edge technology and innovative thinking.
the story behind the
human energy company
let our job matcher find
the right role for you
in seconds
we're proudly recognized as a preferred employer

Human Rights Campaign -
2022 - Rated 100%
For the 15th consecutive year, Chevron achieved a rating of 100 percent on the Human Rights Campaign Equality Index, which ranks U.S. companies committed to lesbian, gay, bisexual and transgender equality in the workforce.

2023 best place to work for
disability inclusion
The American Association of People with Disabilities and Disability : IN have recognized Chevron with a 100% rating on the 2023 Disability Equality Index, maintaining our top score for the fourth year in a row.

National Society of
Black Engineers - 2019
Honored as one of 12 organizations that made a positive impact by investing more than $100,000 in Black/African American communities.

Forbes
Forbes and Statista named Chevron to the 2019 list of America's Best Employers for Women.