information technology
champion the adoption
of emerging tech
deliver innovative solutions to complex business problems for our rapidly changing global industry.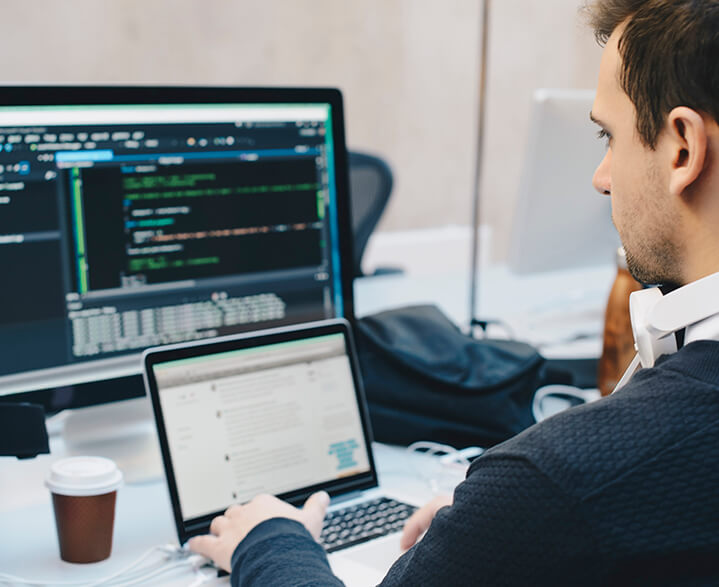 Senior Software Engineer
Houston, Texas
R000004394
success profile
Demonstrate core high performance behaviors – thrive in a highly collaborative, project-based environment, and tackle complex business problems to reach creative, yet practical solutions.
Collaborative
Analytical
Communicator
Strategic
Results-Driven
Problem-Solver
Senior Software Engineer
Houston, Texas
R000004394
Chevron is accepting online applications for the position of SeniorSoftware Engineer
Responsibilities for this position may include but are not limited to: 
Consistently delivers complex, innovative and complete solutions, driving them through design, planning, development, deployment and support that simplify business processes and workflows to drive business value.
Experience building solutions in multiple programming languages and platforms.
Provide technical leadership both tactical (day to day activities) and strategic (big picture, vision). Work has high senior IT and business leadership visibility.
Represent team, priorities, architectures in cross-team architectural discussions and decision making. Partner with PMs/POs in forming vision, direction and priorities
Advocate solid software development practices in the team covering testing, modularity, scalability, observability and integration.
Deliver results in collaboration with other software engineering and technical teams. Constructively and positively influence own and other teams/organizations direction
Practical, hands on experience in all phases of Software Development Lifecycle (plan, design, develop, test, release, maintain and support, decommission), data engineering/data management practices and tools, strong technical background in one or more development platforms (Microsoft, Java, Linux/Unix, Cloud, Mobile).
Design and develop data engineering, data integration and data management practices and tools
Develop software solution leveraging established Chevron technology standards and collaborate with internal partners to develop new technology standards as needs arise
Maintain working knowledge of the latest software engineering tools and practices for continuous integration, unit tests, static and dynamic profiling, code coverage, code analysis, and automated tests.
Expert knowledge developing and debugging in Microsoft technologies.
7+ year of Technical depth and breadth across the range of large-scale cloud and data architectures technologies
Effective communicator with a record of clear and impactful communication at multiple levels (i.e. from junior engineers to company's IT leadership)
Technical mentor for the team, enabling development and growth of other software engineers across the company
Experience designing and implementing API-first approach across platforms and solutions.
Significant experience working on and leading agile teams, utilizing industry methodologies such as SAFe, Scrum, Kanban etc.
BS minimum, MS preferred in Computer Science or related technical field involving coding (e.g., physics, Engineering or mathematics), or equivalent practical experience.
Hands-on experience with Azure Cloud, Service Now, Ansible, Jenkins, and VSTS are considered a plus.
Required Qualifications:
BS in Computer Science or related technical field involving coding (e.g., physics, Engineering or mathematics), or equivalent practical experience.
8+ year of Technical depth and breadth across the range of large-scale cloud and data architectures technologies
Demonstrated deep understanding of the methods, processes and appropriate software engineering frameworks along with Chevron Digital Architecture System and Agile Frameworks. 
Practical, hands on experience in all phases of Software Development Lifecycle (plan, design, develop, test, release, maintain and support, decommission), data engineering/data management practices and tools, strong technical background in one or more development platforms (Microsoft, Java, Linux/Unix, Cloud, Mobile).
Expert knowledge developing and debugging in Microsoft technologies.
Experience designing and implementing API-first approach across platforms and solutions.
Has deep knowledge of multiple programming languages, how to apply them and can easily articulate their strengths and weaknesses,
Example Object Oriented Design and Programming with proficiency in 2 or more of the following languages:  C#, C++, Angular, Node.js, SQL, Ansible, R, Java, JavaScript, Python, among others
Must have a disciplined, methodical, minimalist approach to designing and constructing layered software components that can be embedded within larger frameworks or applications
A keen eye for good architecture and the ability to develop new architectures and frameworks
Demonstrated experience in all phases of Software Development Lifecycle (plan, design, develop, test, release, maintain and support, decommission)
Modern API platform design including how modern UI's are built consuming services/API's . 
Demonstrated strong understanding of Public cloud service offerings (IaaS, PaaS, SaaS services as well product offerings from Azure) and Infrastructure as Code (Container Orchestration, Observability, CI/CD) 
Demonstrated application of systems thinking and strategic thinking skills. Ability to capture the key elements of a system into a simple abstraction that empowers good decisions. 
Demonstrated strong understanding of modern data architectures (e.g. event driven architectures, data democratization, platform approaches to support ML/AI at scale, stream processing, and integrating real time analytics into applications) 
Relocation Options:
Relocation may beconsidered.
International Considerations:
Expatriate assignmentswill not be considered.
Chevron regrets that it is unable to sponsor employment Visas or consider individuals on time-limited Visa status for this position.
Regulatory Disclosure for US Positions:
Chevron is an Equal Opportunity / Affirmative Action employer.  Qualified applicants will receive consideration for employment without regard to race, color, religious creed, sex (including pregnancy, childbirth, breast-feeding and related medical conditions), sexual orientation, gender identity, gender expression, national origin or ancestry, age, mental or physical disability (including medical condition), military or veteran status, political preference, marital status, citizenship, genetic information or other status protected by law or regulation.
We are committed to providing reasonable accommodations for qualified individuals with disabilities. If you need assistance or an accommodation, please email us at emplymnt@chevron.com.
Chevron participates in E-Verify in certain locations as required by law.
hear from our people
At chevron, our greatest resource is our people. their ingenuity, creativity and collaboration have met the complex challenges of energy's past. together, we'll take on the future.
benefits
Health and dental care coverage

Retirement savings plans

Education assistance support

Paid vacations and holidays

Compressed work week schedules and flex time options

Recognition and service award programs
our culture
At Chevron, every day is an opportunity for all of us to continue working towards our collective vision: to be the global energy company most admired for its people, partnership and performance.
To achieve our vision, we've built our company's foundation on a set of values that guides our employees in the way we interact with each other and the communities and environments we work in.
Chevron offers a truly global and collaborative work experience. See what types of complex problems our employees are solving with cutting edge technology and innovative thinking.
the story behind the
human energy company
let our job matcher find
the right role for you
in seconds
we're proudly recognized as a preferred employer

Human Rights Campaign -
2022 - Rated 100%
For the 15th consecutive year, Chevron achieved a rating of 100 percent on the Human Rights Campaign Equality Index, which ranks U.S. companies committed to lesbian, gay, bisexual and transgender equality in the workforce.

2022 best place to work for
disability inclusion
The American Association of People with Disabilities and Disability : IN have recognized Chevron with a 100% rating on the 2022 Disability Equality Index, maintaining our top score for the third year in a row.

National Society of
Black Engineers - 2019
Honored as one of 12 organizations that made a positive impact by investing more than $100,000 in Black/African American communities.

Forbes
Forbes and Statista named Chevron to the 2019 list of America's Best Employers for Women.