information technology
champion the adoption
of emerging tech
deliver innovative solutions to complex business problems for our rapidly changing global industry.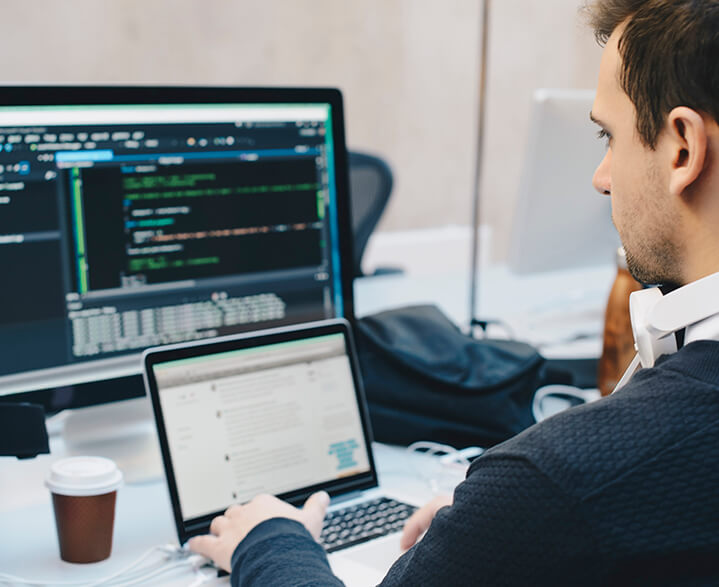 Application Engineer – International Products (Retail, Mobile & Loyalty and Fleet & Payment)
Makati City, Philippines
R000041450-en-1
success profile
Demonstrate core high performance behaviors – thrive in a highly collaborative, project-based environment, and tackle complex business problems to reach creative, yet practical solutions.
Collaborative
Analytical
Communicator
Strategic
Results-Driven
Problem-Solver
Application Engineer – International Products (Retail, Mobile & Loyalty and Fleet & Payment)
Makati City, Philippines
R000041450-en-1
Chevron is accepting online applications for the positions of Application Engineer – International Products – Retail, Application Engineer – International Products – Mobile & Loyalty and Application Engineer – International Products – Fleet & Paymentlocated in Makati City, Philippines.
Join our Team
Chevron's strategy is straight-forward: be a leader in efficient and lower carbon production of traditional energy, in high demand today and for decades to come, while growing lower carbon businesses that will be a bigger part of the future. To achieve these goals, we'll build on the assets, experience, capabilities, and relationships we've developed over 140 years to incubate and grow new business.
Technology will play a crucial role in unlocking ever cleaner and more affordable sources of energy. Chevron is seeking innovative, technology professionals with a desire to thrive in the global digital environment and help us lead the global energy transition. An IT career at Chevron offers you the opportunity to work in a technical environment with a global reach. You'll find that we make a business of investing in our people and encouraging your professional development through a learning culture and challenging on-the-job opportunities. We differentiate ourselves through the application of cutting-edge technology, and by taking a collaborative approach that includes in-house expertise, proprietary solutions, and strategic partnerships. We also offer flexible work schedules and very competitive benefits.
Responsibilities for this position may include but are not limited to:
Provides 2nd level production support for several applications by troubleshooting incidents to identify root causes and solutions, identifying, and resolving problems, designing, and implementing configuration changes and monitoring performance.

Deploys, configures, and supports business applications.

Develops deep domain knowledge by understanding business processes.

Elicits business requirements and translates business needs into fit-for-purpose actionable plans.

Actively participates in an integrated DevOps Team utilizing Agile methodologies with strong change management focus.

Proactive communication and quick response to production issues and project work.  Strong customer focus.

Monitors interfaces/data loads, administer security, and provide feedback/solutions on application performance.

Identifies areas for improvement and partners with Software Engineers/team members to address tactical and strategic issues.

Develops and maintains support documentation.

Maintains IP Compliance on systems and software as appropriate.
Specific to Mobile and Loyalty:
Supports the software development lifecycle for software solutions to deliver a highly advanced regional consumer-facing mobile app and digital technology eco-system, working with best-in-class proprietary and 3rd party loyalty, marketing automation and cloud computing platforms as well as with world class technology consultancies and developers.
Required Skills:
Bachelor's degree in computer science, Engineering, Math, Statistics, or other relevant fields.

At least 5+ years' experience with technical and/or business knowledge in 2 or more areas e.g., card systems, payment systems, mobile app, testing and integration, business analysis, production support with good overarching understanding on retail petroleum marketing and store systems.

Critical thinking skills for framing, analysis, and synthesis of complex issues.

Ability to tailor business processes to adapt to application functionality and processes.

Strong stakeholder engagement; proactively collaborates with external (3rd party support and vendors) and internal customers.

Technical writing - Being able to communicate complex ideas, status of issues and changes in a clear way (oral and written) to all levels of staff across the org.

Independent, organized, and multi-tasker.  Ability to work effectively and proactively in a multi-functional setting.  

Detail oriented with the ability to quickly assimilate and apply new concepts, business models and technologies.

Highly motivated and self-starter

Ability to do low code, develop and understand programming languages is preferred. 

Working knowledge of IRM technical controls and MS Azure Cloud is an advantage.

Working knowledge and understanding of Secure File Transfer Protocol (sFTP) used for exchanging data, and SQL Database queries and table is preferred. 

Amenable to occasional travels to different Asia Pacific countries
Preferred Skills:
Knowledge and hands-on experience in two or more of the following is a plus: Power Apps, Power BI, C#, C++, Angular, Node.js, SQL, Ansible, R, Java, Python, Azure, APIs, Web services (WCF and/or RESTful services), Web technologies (HTML, CSS, JavaScript, and AJAX), Oracle / SQL Server, among others.
Selection Criteria:
Business Analyst Skills & Technical Depth

Ability to understand strategic goals and objectives and key business processes and identify integration points. 

Demonstrated experience in developing, socializing, and vetting new business processes and working across multiple stakeholder groups.

Ability to analyse data and recommend reports to aid in decision making, communicate trends, exceptions, and appropriate actions to audiences of all levels.

Experience with mobile systems or loyalty rewards system will be a bonus.

Familiar with IRM/IRSM/SOX processes and related technical standards and controls is a plus. 

Understanding of Service Level Agreements, Vendor Management, and Incident Management

Experience/knowledge in Agile SAFe, Kanban and Scrum methodologies.

Communication Skills

Ability to coordinate, create and deliver effective communications across a broad range of stakeholder groups; successfully adapts communications to audiences of all levels.

Ability to work with multiple teams both external and internal and influence/drive to deliver results.

Leadership

Able to influence and inspire trust in others to follow and support. 

Able to provide out-of-hours support when needed.

Willingness to take ownership and show initiative to achieve results.
Why join Chevron: 
Chevron is one of the world's leading integrated energy companies and has been doing business in the Philippines for more than 100 years.

Chevron offers a competitive package and an opportunity to extend operational support for Chevron offices in five continents.

Chevron provides career development opportunities to all employees through onboarding, training and development, mentoring, volunteering opportunities and employee networking groups. 

Chevron is proudly recognized as an employer of choice, guided by a vision of diversity, inclusion, and a commitment to equal employment opportunity.

Chevron operates with the highest ethical standards and place the highest priority on the safety and health of its workforce and the protection of communities and the environment.

Chevron advocates work-life balance promotes a healthy behavior in the workplace and offers employees access to various health and wellness programs.

Chevron achieves operational resiliency using technology to enable employees to work from home amidst the COVID-19 pandemic.
Relocation option:
Relocation will not be considered within Chevron parameters.
International considerations:  Expatriate assignments will not be considered.
Chevron participates in E-Verify in certain locations as required by law.
hear from our people
At chevron, our greatest resource is our people. their ingenuity, creativity and collaboration have met the complex challenges of energy's past. together, we'll take on the future.
benefits
Health and dental care coverage

Retirement savings plans

Education assistance support

Paid vacations and holidays

Compressed work week schedules and flex time options

Recognition and service award programs
our culture
At Chevron, every day is an opportunity for all of us to continue working towards our collective vision: to be the global energy company most admired for its people, partnership and performance.
To achieve our vision, we've built our company's foundation on a set of values that guides our employees in the way we interact with each other and the communities and environments we work in.
Chevron offers a truly global and collaborative work experience. See what types of complex problems our employees are solving with cutting edge technology and innovative thinking.
the story behind the
human energy company
let our job matcher find
the right role for you
in seconds
we're proudly recognized as a preferred employer

Human Rights Campaign -
2022 - Rated 100%
For the 15th consecutive year, Chevron achieved a rating of 100 percent on the Human Rights Campaign Equality Index, which ranks U.S. companies committed to lesbian, gay, bisexual and transgender equality in the workforce.

2022 best place to work for
disability inclusion
The American Association of People with Disabilities and Disability : IN have recognized Chevron with a 100% rating on the 2022 Disability Equality Index, maintaining our top score for the third year in a row.

National Society of
Black Engineers - 2019
Honored as one of 12 organizations that made a positive impact by investing more than $100,000 in Black/African American communities.

Forbes
Forbes and Statista named Chevron to the 2019 list of America's Best Employers for Women.