information technology
champion the adoption
of emerging tech
deliver innovative solutions to complex business problems for our rapidly changing global industry.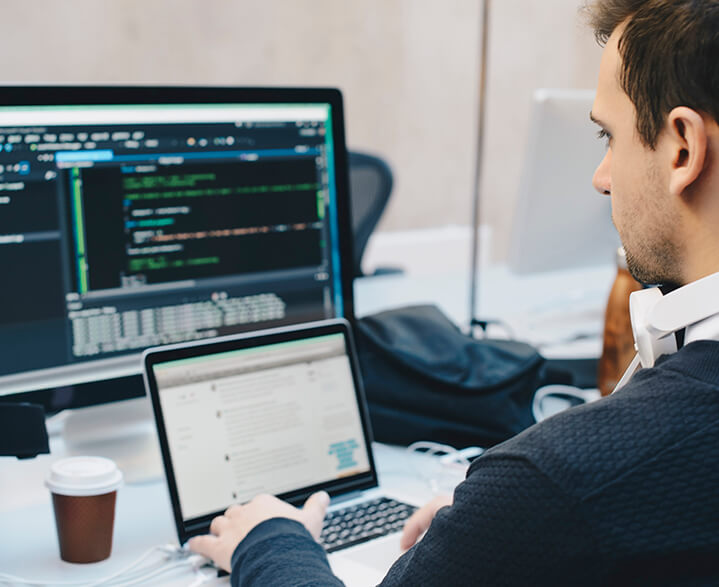 SAP SD or MM Application Engineer
Makati City, Philippines
R000006605-en-1
success profile
Demonstrate core high performance behaviors – thrive in a highly collaborative, project-based environment, and tackle complex business problems to reach creative, yet practical solutions.
Collaborative
Analytical
Communicator
Strategic
Results-Driven
Problem-Solver
SAP SD or MM Application Engineer
Makati City, Philippines
R000006605-en-1
Chevron is accepting online applications for the position of SAP SD or MM Application Engineer located in Makati City, Philippines.
Join our Team
Chevron's strategy is straight-forward: be a leader in efficient and lower carbon production of traditional energy, in high demand today and for decades to come, while growing lower carbon businesses that will be a bigger part of the future. To achieve these goals, we'll build on the assets, experience, capabilities, and relationships we've developed over 140 years to incubate and grow new business.
Technology will play a crucial role in unlocking ever cleaner and more affordable sources of energy. Chevron is seeking innovative, technology professionals with a desire to thrive in the global digital environment and help us lead the global energy transition. 
An IT career at Chevron offers you the opportunity to work in a technical environment with a global reach. You'll find that we make a business of investing in our people and encouraging your professional development through a learning culture and challenging on-the-job opportunities. We differentiate ourselves through the application of cutting-edge technology, and by taking a collaborative approach that includes in-house expertise, proprietary solutions, and strategic partnerships. We also offer flexible work schedules and very competitive benefits.
Join Chevron IT. Lend us your skills and enjoy a great career with Chevron. ​
We are looking for individuals with SAP application management and implementation experience on SAP SD or MM function capabilities to be part of ERP scrum team/s responsible for developing and maintaining SAP solutions and work with various product teams.
Join our team and work in an Agile environment with a primary focus on maintaining the application and optimizing evergreen support through configuration, automation, and integration.
Key Job Responsibilities:
Perform troubleshooting, analysis, coordination, and resolution of various types of production issues

Collaborate closely with Business Partners to gather business requirements

Analyze and understand system capabilities

Configure the SAP software to meet business needs or resolve issues

Open to develop basic technical expertise on any of the following - ABAP code analysis/low code development, SAP Security, continuous integration, or automation

Partner with developers to design, code and implement custom or complex solutions

Analyze, devise, and execute system tests to verify solutions' effectiveness

Oversee the deployment of solutions to the production environments
Required Qualifications:
Solid years of proficiency and hands-on experience on SAP (ECC or S4Hana) application operations support and/or project implementation

Knowledgeable in SAP Configuration based on functional area of expertise.

Knowledge on ABAP Debugging or code analysis, SAP Security or SAP Integration is a plus

Proven ability in analytical and problem-solving skills

Strong communication skills, both oral and written

Excellent customer focus and results-orientation
Working with us 
There are two Chevron companies operating in the Philippines: Chevron Holdings Incorporated (CHI) and Chevron Philippines Incorporated (CPI).
CHI is a shared services center providing transactional, processing, and consulting services in the areas of finance and accounting, information technology, supply chain management, human resources, downstream customer service and marketing. Established in 1998, CHI serves Chevron affiliates in six continents around the world. Over the years, it has grown to be one of the leading members of the shared services industry in the Philippines.
CHI has received various recognitions as a top employer: the 2021 Asia's Best Employer Brand Award; 2021 Global Best Employer Brand Award; 2020 HR Asia Best Companies to Work for in Asia; 2019 Circle of Excellence, Top Employer Category at Asia CEO Awards and the 2018 Wellness Company of the Year at the same Asia CEO Awards.  
CPI markets the Caltex brand of top-quality fuels, lubricants and petroleum products through a network of service stations, terminals and sales offices.
At Chevron, we are committed to fostering diversity and inclusion at all levels of our company and at all stages of the employee experience. We constantly strive to attract, develop and retain diverse Filipino talent.  Globally, Chevron Corporation has achieved a rating of 100 percent in the Human Rights Campaign Equality Index for the past 17 years. The Index ranks American companies based on their commitment to lesbian, gay, bisexual and transgender equality in the workplace.
Benefits       
Competitive salary

Allowances, medical and optical reimbursements 

Health care coverage for you and your eligible dependents 

Robust employee centred programs for health and wellness

Time-off to promote healthy work-life balance or to care for your family

Annual corporate incentive bonus when the company meets established goals

Recognition & awards program

Long-term savings plan

Life insurance

Career development opportunities to all employees through onboarding, training and development, mentoring, volunteering opportunities and employee networking groups

Hybrid work model - work remotely from home several days a week
Connect with us:
Chevron participates in E-Verify in certain locations as required by law.
Default Terms and Conditions
We respect the privacy of candidates for employment. This Privacy Notice sets forth how we will use the information we obtain when you apply for a position through this career site. If you do not consent to the terms of this Privacy Notice, please do not submit information to us.
Please access the Global Application Statements, select the country where you are applying for employment, then acknowledge that you have read and agree to the country specific statement by checking the box below.
hear from our people
At chevron, our greatest resource is our people. their ingenuity, creativity and collaboration have met the complex challenges of energy's past. together, we'll take on the future.
benefits
Health and dental care coverage

Retirement savings plans

Education assistance support

Paid vacations and holidays

Compressed work week schedules and flex time options

Recognition and service award programs
our culture
At Chevron, every day is an opportunity for all of us to continue working towards our collective vision: to be the global energy company most admired for its people, partnership and performance.
To achieve our vision, we've built our company's foundation on a set of values that guides our employees in the way we interact with each other and the communities and environments we work in.
Chevron offers a truly global and collaborative work experience. See what types of complex problems our employees are solving with cutting edge technology and innovative thinking.
the story behind the
human energy company
let our job matcher find
the right role for you
in seconds
we're proudly recognized as a preferred employer

Human Rights Campaign -
2022 - Rated 100%
For the 15th consecutive year, Chevron achieved a rating of 100 percent on the Human Rights Campaign Equality Index, which ranks U.S. companies committed to lesbian, gay, bisexual and transgender equality in the workforce.

2023 best place to work for
disability inclusion
The American Association of People with Disabilities and Disability : IN have recognized Chevron with a 100% rating on the 2023 Disability Equality Index, maintaining our top score for the fourth year in a row.

National Society of
Black Engineers - 2019
Honored as one of 12 organizations that made a positive impact by investing more than $100,000 in Black/African American communities.

Forbes
Forbes and Statista named Chevron to the 2019 list of America's Best Employers for Women.