operations & maintenance
be on the front lines of tackling today's energy challenges
use your knowledge and skills to help create energy solutions that forge new paths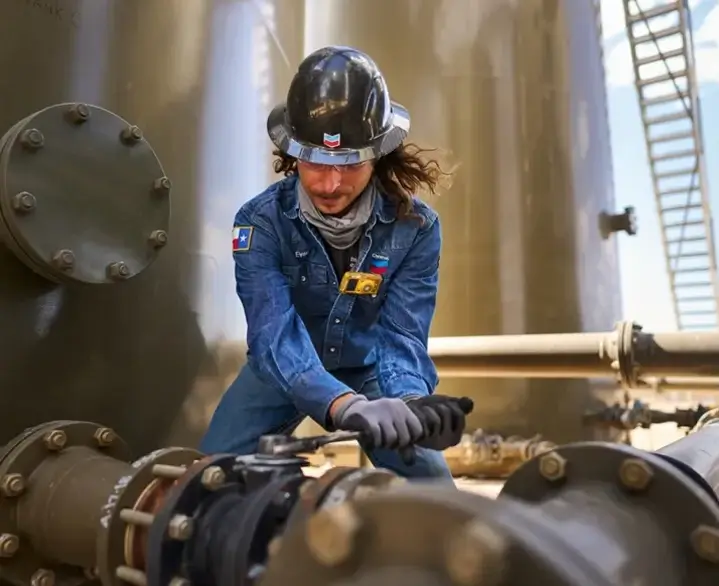 Operator Trainee
Richmond, California
success profile
Demonstrate core high performance behaviors – thrive in a result driven, safety focused environment, and contribute to our commitment to protecting the environment.
Team player
Communicator
Problem-Solver
Detail-oriented
Self-starter
Adaptable
Culture
At Chevron, every day is an opportunity for all of us to continue working towards our collective vision: to be the global energy company most admired for its people, partnership and performance.

To achieve our vision, we've built our company's foundation on a set of values that guides our employees in the way we interact with each other and the communities and environments we work in.

Chevron offers a truly global and collaborative work experience. See what types of complex problems our employees are solving with cutting-edge technology and innovative thinking.
hear from our people
At chevron, our greatest resource is our people. their ingenuity, creativity and collaboration have met the complex challenges of energy's past. together, we'll take on the future.
benefits
Yep, we've got the same benefits all those fancy office jobs have. And more. When you have everything you need, you can go a lot further than you'd ever expect.
Medical and dental
care coverage

Retirement
savings plans

Education assistance
and support

Paid vacations
and holidays

Specialized training programs

Recognition and service
award programs
Operator Trainee
Richmond, California
R000051772-en-1
Total Number of Openings
40Chevron Products Company is accepting online applications for the position of Operator Trainee located at our Richmond Refinery, CA through December 11th, 2023, at 11:59 p.m. (PST).
Responsibilities for this position may include but are not limited to:
Operation of process units utilizing a wide range of control systems and equipment that includes tanks, mixers, heat exchangers, pumps, furnaces and vacuum systems.

Operation of manual and automatic valves, meters, pumps and transfer systems that move product between tanks and process units.

Comprehensive understanding of refinery policies and procedures and Process and Personal Safety.

Housekeeping to maintain a clean work environment and clean equipment such as filters, tanks, exchangers and other equipment.

This position requires driving on a routine basis.
Required Qualifications:
High School Diploma or Equivalent

Minimum of two years of any type of work experience. Military experience is counted as work experience.

Valid Driver's License. Job necessitates driving on a routine basis.

Must be able to work a rotating 12-hour shift (Example: Work for four days, then have three days off, then work three nights), overtime as required Including staying at work for up to 16 hours, weekends/holidays/days off and on-call.

Ability to wear Personal Protective Equipment (PPE) including full-body coveralls, protective footwear, hard-hats, hearing protection, eye protection, full-face respirators and/or self-contained breathing apparatus.

This is a Safety Sensitive Position. Candidates must demonstrate personal commitment to Incident and Injury Free Operations with a proven track record in Safety and Reliability

Candidates must have or be able to obtain a TWIC card within 6 months of employment.

Must be able to work at heights with appropriate fall protection, climb, crawl, and work in confined spaces.

Must be able to work in a high noise environment.

Must be able to work outside, with potential exposure to heat, cold, rain, and other weather conditions.

Must be able to lift up to 50 pounds occasionally.

Must pass online assessment process*
Preferred Qualifications:
2 years' work experience in refinery or petrochemical industry

Associate's/Technical Degree from a Process Technology Program

Regional Occupational Program (Process Plant Operator or Industrial Maintenance Mechanic) certificate completed within the last 2 years.

Military work experience
Relocation Options:
Relocation may be considered within Chevron's parameters.
International Considerations:
Expatriate assignments will not be considered.
*IMPORTANT NOTE:
As part of the application process, you will be required to take an Operations Assessment that measures aptitude and work styles. We recommend you allow approx. 45 minutes to complete the test in one sitting. If you need to exit, your progress will be saved.
You will be immediately directed to the testing portal upon submittal of your application, at which point you will have 72 hours (about 3 days) to complete the online assessment.  
Once complete, your assessment score will be valid for 180 days. Should you re-apply for another Job Requisition within this timeframe that includes the Operations Assessment, you will be required to complete the application process and then click on the assessment link. This will resubmit your previous results.
Chevron's tests are focused on industrial aptitudes. However, Armed Services Vocational Aptitude Battery (ASVAB) test preparation guides may be helpful in preparation for these tests. Candidates should focus on mechanical aptitude, reading comprehension, understanding information in tables and graphs, and understanding industrial math.
Regulatory Disclosure for US Positions
The compensation and reference to benefits for this role are listed in this posting in compliance with applicable law. Please note that the compensation and benefits listed below are only applicable to U.S. payroll offers.

The anticipated hourly wage for this position is $39.07 USD. The selected candidate's compensation will be determined based on their skills, experience, and qualifications.

Chevron offers competitive compensation and benefits programs which include, but are not limited to, variable pay, health care coverage, retirement plan, protection coverage, time off and leave programs, training and development opportunities, and a range of allowances connected to specific work situations. Details are available at http://hr2.chevron.com/.
Regulatory Disclosure for US Positions:
Chevron is an Equal Opportunity / Affirmative Action employer. All qualified applicants will receive consideration for employment without regard to race, color, religious creed, sex (including pregnancy), sexual orientation, gender identity, gender expression, national origin or ancestry, age, mental or physical disability, medical condition, reproductive health decision-making, military or veteran status, political preference, marital status, citizenship, genetic information or other characteristics protected by applicable law.
We are committed to providing reasonable accommodations for qualified individuals with disabilities. If you need assistance or an accommodation, please email us at emplymnt@chevron.com.
Chevron participates in E-Verify in certain locations as required by law.
Default Terms and Conditions
We respect the privacy of candidates for employment. This Privacy Notice sets forth how we will use the information we obtain when you apply for a position through this career site. If you do not consent to the terms of this Privacy Notice, please do not submit information to us.
Please access the Global Application Statements, select the country where you are applying for employment, then acknowledge that you have read and agree to the country specific statement by checking the box below.
jobs for you
Do you have any jobs saved yet? Start looking now! Once you've found one you're interested in, click the save this job button or icon. You can find them on the search results or job description pages.
Recently viewed jobs will appear here once you have visited a job description page.
that's not all
there's more to our story