operations & maintenance
be on the front lines of tackling today's energy challenges
use your knowledge and skills to help create energy solutions that forge new paths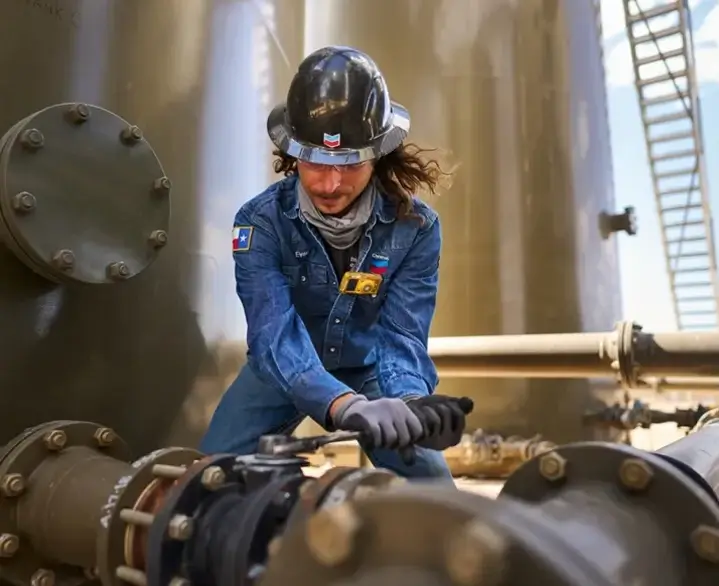 Maintenance Technician (Instrument/Electrical)
Seneca, Illinois
success profile
Demonstrate core high performance behaviors – thrive in a result driven, safety focused environment, and contribute to our commitment to protecting the environment.
Team player
Communicator
Problem-Solver
Detail-oriented
Self-starter
Adaptable
Culture
At Chevron, every day is an opportunity for all of us to continue working towards our collective vision: to be the global energy company most admired for its people, partnership and performance.

To achieve our vision, we've built our company's foundation on a set of values that guides our employees in the way we interact with each other and the communities and environments we work in.

Chevron offers a truly global and collaborative work experience. See what types of complex problems our employees are solving with cutting-edge technology and innovative thinking.
hear from our people
At chevron, our greatest resource is our people. their ingenuity, creativity and collaboration have met the complex challenges of energy's past. together, we'll take on the future.
benefits
Yep, we've got the same benefits all those fancy office jobs have. And more. When you have everything you need, you can go a lot further than you'd ever expect.
Medical and dental
care coverage

Retirement
savings plans

Education assistance
and support

Paid vacations
and holidays

Hybrid work model
& compressed work
week schedules

Recognition and service
award programs
Maintenance Technician (Instrument/Electrical)
Seneca, Illinois
R000034695-en-1
Inspects, maintains, troubleshoots and repairs mechanical systems, including fixed and rotating equipment, engines, pumps, generators, compressors, piping, valves, vessels. Identifies and implements reliability, integrity, economic, carbon reduction, and safety improvements for above systems.
Performs routine assignments under general supervision.  Gaining knowledge of work procedures and practices.  
Chevron-Renewable Energy Group
POSITION PURPOSE:
The purpose of this job is to be responsible for and assist with performing the maintenance of all equipment in the factory, identifying and ordering spare parts, working with contractors to maintain and upgrade the plant, and improving the reliability of the plant. This position is also responsible for ensuring the plant is maintained in a safe and clean condition.
ESSENTIAL FUNCTIONS:
Key Accountabilities:
Maintain the Plant
Perform corrective maintenance, adjustments, and emergency repairs
Perform preventive maintenance, lubrication, overhaul and upgrades of plant electrical, safety and instrumentation equipment
Perform predictive maintenance work
Write and update work orders and other information in the computerized maintenance management system
Write Requisitions for  parts and materials
Be available for call-outs
Assist in Turnaround and Project planning and scheduling
Perform failure analysis, suggest and implement improvements.
Learn new skills as needed to maintain the plant
Work closely with engineering group and outside contracted vendors to meet deadlines and complete capital improvement projects
Other frequent duties:
Assist operations as needed
Operate equipment such as fork truck, man lifts, etc.
Assist maintenance, engineering and operations management as needed
Perform other duties as assigned
JOB REQUIREMENTS:
Be available for daily work and overtime as required
Demonstrate attention to detail
Ability to use office equipment (computer, copy machine, calculator, etc)
Ability to effectively communicate both orally and in writing to provide technical expertise as required
Manage multiple tasks simultaneously and in a timely manner to meet deadlines
Disciplined self-starter with good organizational skills
Work independently or with others as a team to complete assigned projects
Awareness of new technical developments and ability of applying new knowledge to the processes in place at Chevron-Renewable Energy Group
Possess the following competencies:
Basic computer skills including excel, word, and outlook.
Team player
Good organizational skills
Provide personal contact information on an as needed basis for official business purposes
JOB QUALIFICATIONS:
Education Required: High school diploma of equivalent
            **Experience may substitute education requirements
Experience Required:  5-10 years depending on education
**Experience in a process plant or production environment experience in biofuels, petrochemical & refining preferred
Skills Required: 
Verbal and written communication skills
Microsoft Office (Excel, PowerPoint, Outlook,)
Strong organization skills
Strong technical background
Ability to work as a member of a team
Special skills or knowledge preferred:
ISA Certification
I&E  Technician associates degree or advanced training
CMRT (Certified Maintenance and Reliability Technician) or CMRP (Certified Maintenance and Reliability Professional)
BASIC MENTAL AND PHYSICAL REQUIREMENTS:
Reasonable accommodations may be made to enable individuals with disabilities to perform the essential functions. Medium to high stress levels during testing procedures.  Mental ability to effectively analyze reports and communicate information to co-workers. This position requires standing, climbing, working in a hot plant environment, manual dexterity to input and access information through a computer terminal, frequent math and algebraic calculations, and moderate analytical ability. Ability to lift and carry at least 75Lbs.
Standing -                                    Frequent (34% to 66%)
Sitting -                                        Frequent (34% to 66%)
Walking -                                     Frequent (34% to 66%)
Bending/Stooping -                     Occasional (1% to 33%)
Reaching above shoulders -             Occasional (1% to 33%)
Kneeling -                                    Occasional (1% to 33%)
Pushing/Pulling                           Occasional (1% to 33%)
Climbing -                                   Occasional (1% to 33%)
Repetitive hand movements        Frequent (34% to 66%)
Requires good general physical ability to move freely throughout facilities.  Extended periods of time walking, standing and other physical activities related to achieving job responsibilities.  Good vision and hearing, corrected to normal for managing operations for safety in job functions.
WORKING CONDITIONS:
This position may require extended and flexible working hours to assure effective operation.  Requires ability to move freely throughout the facilities, directing and coordinating a variety of activities.  Occasionally exposed to marked changes in temperature and/or humidity, feedstock, dust, medium to high noise levels within the building due to running equipment.   Potential exposure to chemicals, hazardous materials used in the biodiesel process.
TRAINING:
1.  Orientation             2. Internal/External training as needed
This job description in no way states or implies that these are the only duties to be performed by this employee.  He/she will be required to follow any other instructions and to perform any other duties requested by his/her supervisor.
Chevron regrets that it is unable to sponsor employment Visas or consider individuals on time-limited Visa status for this position.
Regulatory Disclosure for US Positions:
Chevron is an Equal Opportunity / Affirmative Action employer.  Qualified applicants will receive consideration for employment without regard to race, color, religious creed, sex (including pregnancy, childbirth, breast-feeding and related medical conditions), sexual orientation, gender identity, gender expression, national origin or ancestry, age, mental or physical disability (including medical condition), military or veteran status, political preference, marital status, citizenship, genetic information or other status protected by law or regulation.
We are committed to providing reasonable accommodations for qualified individuals with disabilities. If you need assistance or an accommodation, please email us at emplymnt@chevron.com.
Chevron participates in E-Verify in certain locations as required by law.
jobs for you
Do you have any jobs saved yet? Start looking now! Once you've found one you're interested in, click the save this job button or icon. You can find them on the search results or job description pages.
Recently viewed jobs will appear here once you have visited a job description page.
that's not all
there's more to our story