chevron in Australia
chevron is one of the world's leading integrated energy companies and, through its Australian subsidiaries, has been present in Australia for 70 years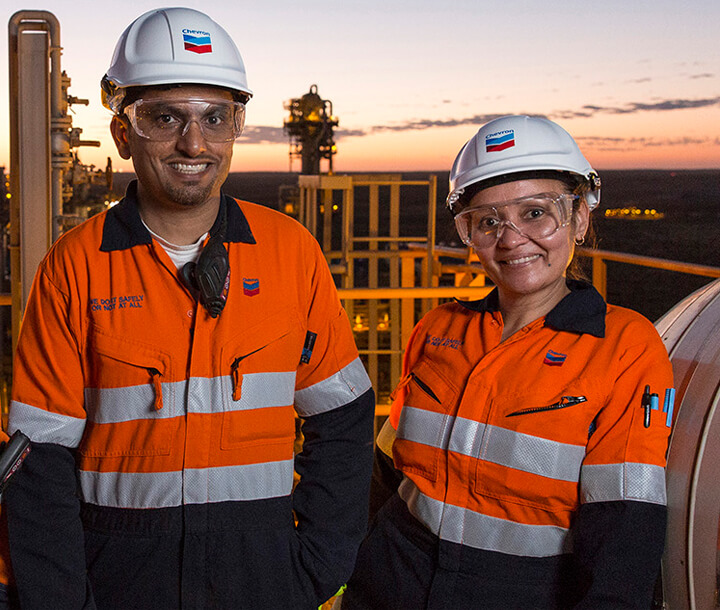 With the ingenuity and commitment of thousands of workers, Chevron Australia operates the Gorgon and Wheatstone natural gas facilities; manages its equal one-sixth interest in the North West Shelf Venture; operates Australia's largest onshore oilfield on Barrow Island and is a significant investor in exploration.
Chevron Australia Downstream delivers quality fuel products and services across Australia, operating or supplying a network of more than 360 retail locations, primarily under the Puma brand, and an extensive 24-hour hour diesel stop network, as well as depots and seaboard terminals.
We are creating enduring benefits that will help shape the Nation's economic future and spearhead Australia's growing importance as a global natural gas supplier. Chevron's upstream offices are based in Perth, Western Australia, while Chevron's downstream offices are based in Brisbane, Queensland.
who we are
Chevron Australia is the focal point of some of Chevron's most exciting projects globally, and our employment opportunities will put you on the frontline to help deliver crucial new energy to the world.
We believe the future of energy is lower carbon and that affordable, reliable, ever cleaner energy is essential to achieving a more prosperous and sustainable world. Our commitment to sustainability has never been stronger and our approach is integrated throughout our business to strive to protect the environment, empower people, and get results the right way—today and tomorrow.
Chevron Australia promotes a workplace that welcomes contributions from all people. We actively encourage people of all abilities, cultures and backgrounds, sexualities and genders, all age groups and Aboriginal and Torres Strait Islanders to apply.
Through our Reconciliation Action Plan, we will create an inclusive workplace where employees understand and respect Aboriginal histories and cultures and where cultural diversity is celebrated.
We have developed an Education to Employment Framework that offers a pipeline of opportunities to Aboriginal people who have the right skills and knowledge to commence a rewarding career in the energy and resource sector.
aboriginal cadetship program - includes a paid vacation work program offering an opportunity to gain valuable insight into the culture of the company and experience the wide range of career opportunities available. Apply here.
aboriginal traineeship program - offers jobs that combine practical experience at work with a structured training program and leads to a nationally recognised qualification. wheatstone operations aboriginal employment program (WOAEP) - WOAEP provides Aboriginal people living in Onslowthe opportunity to access a local program to develop skills, gain experience and qualifications for employment in the operations phase at the Wheatstone LNG Plant or with contractors supplying services to the Wheatstone LNG Plant.
apprenticeship program - We have a number of opportunities on offer including a Mechanical Fitting Apprenticeship (4 years), Electrical/Instrumentation Apprenticeship (4 years), Warehouse Operations Traineeship (2 years), Business Administration Traineeship (2 years) and Process Operator Traineeship (2 years).
experienced candidates - We are interested in hearing from Aboriginal Australians who already have industry experience, as well as from those who have aspirations to work within the oil and gas industry that may have relevant experience in other industries. View current availabilities (link to all Australia jobs SRP)
Chevron offers various culturally-appropriate programs which provide Aboriginal employees with a high level of support throughout their career with us. We provide ongoing education and training to assist employees to cultivate their skills and expand their career within a diverse, supportive and collaborative workplace.
Once on board with Chevron, you will be matched with a mentor and discover a number of structured training and support programs to assist you throughout your career with us.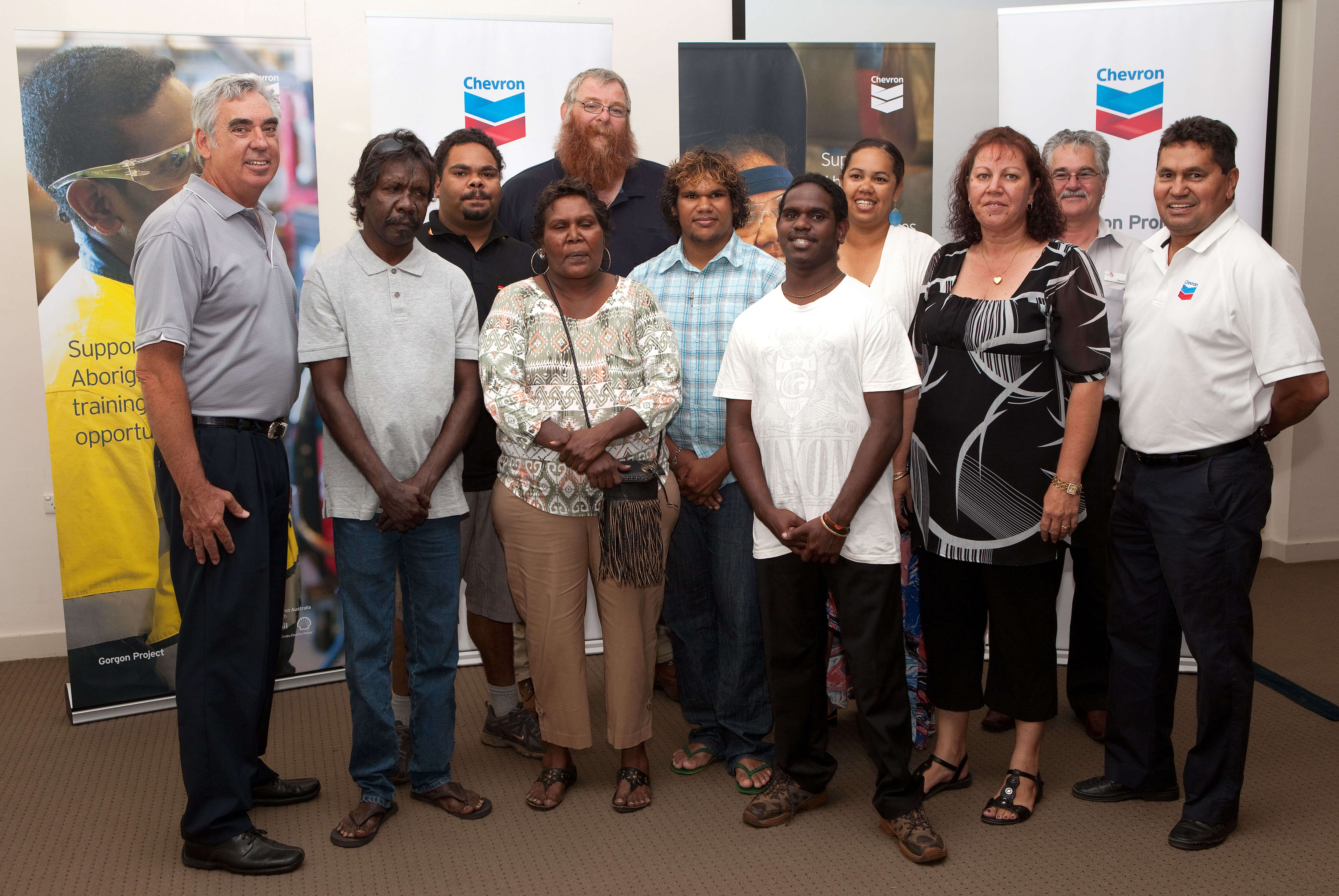 what you'll do
The nature and scope of our interests in Australia requires talented, committed individuals from a wide range of disciplines and skill-bases including operations, engineering and corporate disciplines
We offer career opportunities for trainees, apprentices, interns, graduates, operators and experienced professionals who demonstrate a personal philosophy that is aligned with our Chevron Way. We value integrity, trust, diversity and ingenuity as a company and in our employees.
In our upstream business, you will be provided with opportunities to further develop your technical and professional skills whilst contributing to two of Australia's largest oil and gas developments. Our operations utilise some of the latest technology and innovations within the oil and gas sector. In our downstream business, opportunities exist for technical and corporate professionals.
career development support
When you join Chevron, you'll find a workplace committed to your professional development. No matter where you are on your career path, Chevron offers ongoing education, training and mentorships to help you develop your skills and expand your career. Our 10 employee diversity networks provide opportunity to connect with and learn from the experiences of colleagues from across the business. Our volunteering program helps employees to support causes they care about and supports our partnerships in the communities where we operate.
jobs for you
Do you have any jobs saved yet? Start looking now! Once you've found one you're interested in, click the save this job button or icon. You can find them on the search results or job description pages.
Recently viewed jobs will appear here once you have visited a job description page.
that's not all
there's more to
our story
more about Chevron in Australia

Chevron has been operating in Australia since 1952 when they entered Western Australia through the purchase of Caltex.

chevron in australia

resources

We invest in, develop and empower our highly competent workforce.

resources

diversity and inclusion

We learn from and respect the cultures in which we operate. We have an inclusive work experience that values uniqueness and diversity.

diversity and inclusion
we're proudly recognized as a preferred employer

Human Rights Campaign -
2022 - Rated 100%
For the 15th consecutive year, Chevron achieved a rating of 100 percent on the Human Rights Campaign Equality Index, which ranks U.S. companies committed to lesbian, gay, bisexual and transgender equality in the workforce.

2023 best place to work for
disability inclusion
The American Association of People with Disabilities and Disability : IN have recognized Chevron with a 100% rating on the 2023 Disability Equality Index, maintaining our top score for the fourth year in a row.

National Society of
Black Engineers - 2019
Honored as one of 12 organizations that made a positive impact by investing more than $100,000 in Black/African American communities.

Forbes
Forbes and Statista named Chevron to the 2019 list of America's Best Employers for Women.