chevron in the Philippines
For more than a century, chevron's investments and operations in the Philippines have made important contributions to developing the country's energy and petroleum industry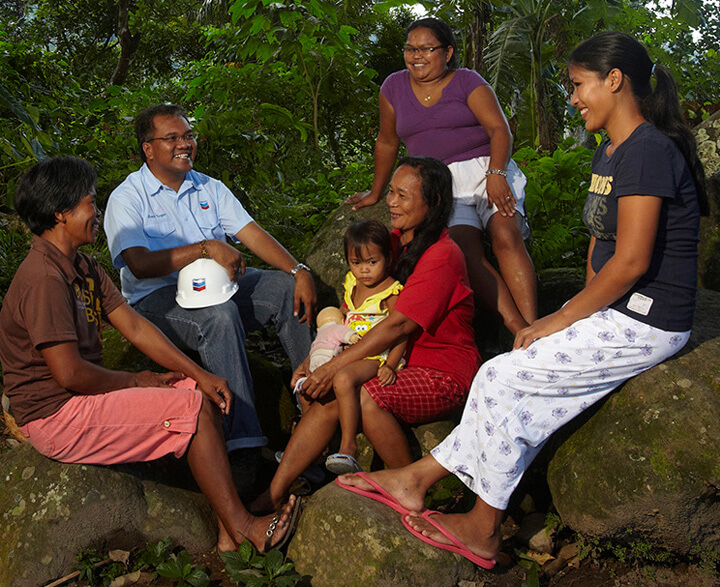 Chevron has a major presence in the Philippines as one of the country's biggest investors, operating two business units:
Chevron Philippines Inc. - Markets the Caltex brand of top-quality fuels, lubricants and petroleum products through a network of service stations, terminals and sales offices.
Chevron Holdings Inc. - Is a shared services company providing transactional, processing, and consulting services in the areas of finance and accounting, information technology, supply chain management, human resources, downstream customer service and marketing. CHI serves Chevron affiliates in six continents around the world. It is a regional operating headquarters (ROHQ) registered in 1998. Over the years, it has grown to be one of the leading members of the shared services industry in the Philippines. The company culture is centered around The Chevron Way, defined as "getting results the right way." Chevron highly values safety, employee well-being, diversity and inclusion. CHI was conferred the Global Employer Brands Award in 2021 by the World HR Congress and recognized as one of the Best Companies to Work For in 2020 in the Philippines by HR Asia. It also received the Wellness Company of the Year at the Asia CEO Forum in 2018and was chosen by the same Forum as member of the Circle of Excellence of Top Employers in the Philippines in 2019.
who we hire
Chevron values integrity, trust, diversity and ingenuity as a company and in our employees. We look for individuals with the following qualities:
Have a collaborative work style.
Values diversity and enjoys a teamwork-oriented environment
Process driven with an eye towards improvement
Are solution-oriented and outcome-driven.
In the Philippines, Chevron hires full-time employees with relevant education and experience in the following areas:
Earth science (geology, geophysics)
Engineering
Operations and maintenance
Human resources
Information technology
Data science, artificial intelligence, cybersecurity
Finance and accounting
Procurement and supply chain management
Health, environment and safety
Business development, sales and marketing
Customer support
Facilities Management
Health & Medical
where you will work
Depending on your role, your journey at Chevron could take you to one or more of these locations where our four business units in the Philippines are based, or to one of Chevron's other locations around the world.
Chevron Philippines Inc. – 6750 Ayala Ave., Makati City and terminals in Batangas, Davao, Cebu. La Union and Amlan
Chevron Holdings Inc. – RCBC Plaza, Makati City
career development support
When you join Chevron, you'll find a workplace committed to your professional development. You'll receive support and tools to create your own career path. Chevron offers ongoing education, training and mentorships to help you develop your skills and expand your career. Chevron also offers employees the opportunity to participate in various employee diversity groups and volunteer programs.
jobs for you
Do you have any jobs saved yet? Start looking now! Once you've found one you're interested in, click the save this job button or icon. You can find them on the search results or job description pages.
Recently viewed jobs will appear here once you have visited a job description page.
that's not all
there's more to
our story
more about Chevron in the Philippines

Chevron works to improve the social and economic well-being of communities where we operate.

chevron in the philippines

we invest in you

We invest in, develop and empower our highly competent workforce.

benefits

mutual respect

We learn from and respect the cultures in which we operate. We have an inclusive work experience that values uniqueness and diversity.

diversity and inclusion
we're proudly recognized as a preferred employer

Human Rights Campaign -
2020 - Rated 100%
For the 15th consecutive year, Chevron achieved a rating of 100 percent on the Human Rights Campaign Equality Index, which ranks U.S. companies committed to lesbian, gay, bisexual and transgender equality in the workforce.

2021 best place to work for
disability inclusion
The American Association of People with Disabilities and Disability : IN have recognized Chevron with a 100% rating on the 2021 Disability Equality Index, maintaining our top score for the third year in a row.

National Society of
Black Engineers - 2019
Honored as one of 12 organizations that made a positive impact by investing more than $100,000 in Black/African American communities.

Forbes
Forbes and Statista named Chevron to the 2019 list of America's Best Employers for Women.